Detox & Facial Kit combo
₹1,799.00
You Save: ₹200.00(11%)
Out of stock
Detox your body inside, out!
Detox your body and skin with this exclusive combo pack. The 1-day DETOX along with the 5-step 1- day FACIAL will leave you feeling refreshed, rejuvenated with glowing skin.
The 1-day detox is designed to cleanse your system and flush out toxins from your body. It clears out rigid toxic build up, reduces inflammation and purifies your blood. The 1-day detox is loaded with anti-oxidants, essential minerals, vitamins and electrolytes. It leaves you feeling light and energized, reduces bloat, acidity and improves digestion.
The 5-step facial is fortified with activated charcoal, loaded with antioxidants and has natural ingredients infused with anti-ageing properties that gives you clean and glowing skin. This salon like facial is for all skin types – oil, dry and normal.
1-day DETOX IN A BOX
Benefits:-
Up to 2 kgs of WEIGHT LOSS in a week
Clear and Glowing Skin
Improved Digestion
Improved Energy & Productivity
Reduction in Bloat
Improved Energy
Improved Hair Quality
Better Immunity
5 step FACIAL KIT
Benefits:-
Purifies the skin
Removes blackheads
Unclogs pores
Reduces pore size
Detoxifies the skin
Reduces pimples
Anti-ageing properties
Natural glow
Reviews (10)
Additional information
Vendor Info
More Products
Vendor Information
4.46 rating from 177 reviews
17%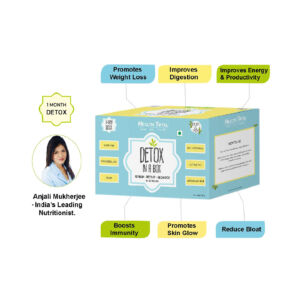 New!
1-Month Detox Kit (4 Pack Kit) – Detox Kit for Weight Loss
₹

4,800.00
You Save: ₹801.00(17%)