Diet-Fils Grainoz Instant Millet Multigrain Breakfast Cereal
Diet-Fils Grainoz Instant Millet Multigrain Breakfast Cereal
₹175.00
Out of stock
AS PER THE MANUFACTURER
Nutritious and Delicious: Start your day with Grainoz Instant Millet Breakfast Cereal, a wholesome and tasty option to fuel your mornings.
Millet-Based Goodness: Made with high-quality millet grains, this cereal is rich in essential nutrients and offers a delightful crunch in every bite.
Quick and Convenient: Enjoy a nutritious breakfast in no time with this instant cereal that requires minimal preparation.
High in Protein: Packed with protein, Grainoz cereal provides sustained energy and supports muscle growth and repair.
Versatile: Enjoy it with hot or cold milk, customize it with your favorite toppings or fruits, and create your perfect breakfast bowl.
Gluten-Free and Whole Grain: Perfect for individuals with dietary restrictions, this cereal is gluten-free and made from whole grains.
Source of Fiber: Promote digestive health with the fiber content in Grainoz Instant Millet Breakfast Cereal.
Balanced Nutrition: With a combination of essential vitamins and minerals, this cereal helps meet your daily nutritional needs.
Suitable for All: Whether you're a health-conscious individual or looking for a family-friendly breakfast option, Grainoz cereal is suitable for everyone.
Kickstart Your Day: Energize your mornings with this delicious and nutritious millet cereal, and embrace a healthy breakfast routine.
Product Weight / Size / Volume: 275 g
Ingredients / Composition: Finger Millet (Ragi), Sorghum Millet, Pea Protein, Quinoa, Makhana, Amaranth, Gram, Maize, Rice & Sugar
Reviews (0)
Description
Shipping
Additional information
Vendor Info
More Products
Product Short Description
Grainoz Instant Millet Multigrain Breakfast Cereal
Shelf Life: 9 months
| | |
| --- | --- |
| Weight | 0.48 kg |
| Ingredients | |
| Nutrition | |
| Products | |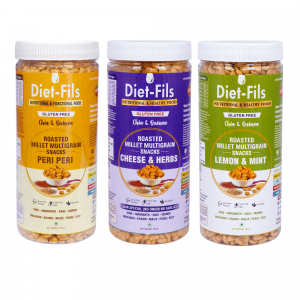 New!
Diet-Fils – Roasted Millet Multigrain Snacks Combo Mix | Cheese & Herbs | Lemon & Mint | Peri Peri