Green Drink 9 gm – Clinical Nutrition
₹250.00
Out of stock
Green Drink is a rare combination of greens available in nature. As the name suggests, the main ingredients include mint, coriander and drumstick leaves – a plant scientifically known as Moringa oleifera.
Health Benefits
The Green Drink is an excellent source for deep-level detoxification. It contains antioxidants and anti-inflammatory properties that not only boost immunity, but also purify the blood. This Green Drink is as good and effective as any vegetable juice.
The green drink is an excellent source for deep level of detoxification required for weight loss.
It poses good antioxidant and anti-inflammatory properties.
Works great as an easy option for vegetable juice.
Reviews (0)
Description
Additional information
Vendor Info
More Products
Usage
One glass of Green Drink can be had as a mid-day meal.
Nutritional Facts
Nutritional info per sachet
Energy
13.92 kcal
Carbohydrates
3.48 g
Protein
0
Fat
0
Fiber
1.5 gm
Sodium
18 mg
Potassium
160 mg
Calcium
6 mg
Phosphorus
2.60 mg
Magnesium
2.40 mg
Chloride
1.76 mg
| | |
| --- | --- |
| Weight | 110 kg |
| Health Concern | |
| Products | |
| Nutrition | |
Vendor Information
4.47 rating from 176 reviews
17%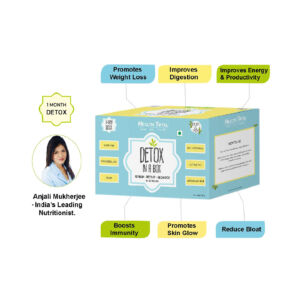 New!
1-Month Detox Kit (4 Pack Kit) – Detox Kit for Weight Loss
₹

4,800.00
You Save: ₹801.00(17%)