hemo booster nutriorg 300ml
₹250.00
Out of stock
Nutriorg – Hemo Booster (pomegranate, dates, anjeer, moringa, ashwagandha, apple juice, amla juice, honey and organic sugar) 10.14 Fl. Oz. (300ml) 100% natural juice
Nutriorg Hemo Booster Juice is a great combination of Fresh Pomegranate Juice, Atrger (Anjeer) Fruit Syrup, Dates (Khajur) Fruit Syrup, Apple Fruit Juice, Moringa, Ashwagandha, Pure Amla Juice, Kaunch, Bathua and Certified Organic sugar Syrup.
Its benefits are:
Nutriorg hemo booster juice helps increase hemoglobin, boost immunity, helps in detoxification.
It contains antioxidants and helps in improving digestive system.
It is made from fresh pomegranate, which is a powerfully anti-inflammatory.
It can help reduce inflammation throughout the body and prevent oxidation stress and damage.
It also contains dates syrup which is rich in several vitamins, minerals, and fiber. This delicious fruit contains calcium, sulfur, iron, potassium, phosphorous, manganese, copper and magnesium, which are all beneficial for health.
How to Consume: Take 20ml with 200ml lukewarm water twice a day preferably morning and evening 30min. prior to any meal.
Ingredients:-
Apple cider vinegar: 100%
No preservatives
No chemical
Specifications:-
Best before 18 months from manufacture
Not for medical use
Reviews (0)
Description
Additional information
Vendor Info
More Products
| | |
| --- | --- |
| Nutritional info*: | Approx value per 100gm |
| Punica Granatum | 4 ml |
| Moringo olfera | 0.8 g |
| Ficus hispida | 0.2 g |
| Withania somnifera | 0.5g |
| Mucuna pruriens | 0.5g |
| Vitis vinifera | 0.5g |
| Chenapodium album | 1g |
| Malus domestica | 0.5g |
| Emblica officianalis | 0.5ml |
| Apis Sp. | 1ml |
Vendor Information
4.47 rating from 176 reviews
17%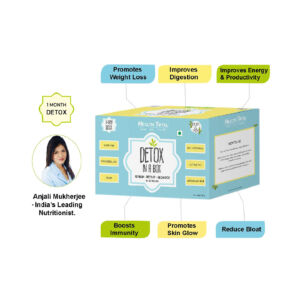 New!
1-Month Detox Kit (4 Pack Kit) – Detox Kit for Weight Loss
₹

4,800.00
You Save: ₹801.00(17%)