Kairali Kairtis – Ayurvedic Pain Relief Oil for Rheumatism & Arthritis (110 ml)
Kairali Kairtis – Ayurvedic Pain Relief Oil for Rheumatism & Arthritis (110 ml)
₹634.00
3 in stock
AS PER THE MANUFACTURER
Kairtis Ayurvedic oil is an effective medicinal blend of nature's selected herbal ingredients. It is an innovative solution for pain that is also a part of Ayurvedic Panchakarma treatment.
This oil absorbs deep into the affected areas, provides long-term and amazing results in various kinds of aches and pains like arthritis, spondylosis, joint pains, swelling, backache, frozen shoulder and muscular aches. It is noted that one can live a pain-free lifestyle if one uses this oil combined with the potli massage continuously.
Kairtis has come with the goodness of Ayurvedic massage potli (Kolakulathadi Choornam) which is a collection of natural dry herbs which are known for reducing joint pain.
The Key Ingredients of this pain relief oil are:
Country Mallow (Sida cordifolia): – It has anti-inflammatory properties and helps to relieve nerve pain, joint pain, headache and body pain.
Drumstick (Moringa oleifera): – Treats the pain and inflammatory conditions caused by arthritis.
Gossypium herbaceum: – Act as an excellent pain reliever. One of the anti-inflammatory herbs for decreasing pain and swelling.
Reviews (0)
Description
Shipping
Additional information
Vendor Info
More Products
Ingredients / Composition:
Kairtis Oil:
Cow's milk, Oil of Sesamum indicum, Dhanyamlam, Sida cordifolia, Moringa oleifera, Calotropis gigantea, Ricinus communis, Strobilanthes heynianus, Aegle marmelos, Gmelina arborea, Premna corymbosa, Stereospermum colais, Oroxylum indicum, Pterocarpus marsupium, Cassia tora, Zingiber officinale, Terminalia chebula, Alpinia galanga, Gossypium herbaceum, Cinnamomum camphora, Mineral Pitch
Kolakulathadi Choornam (Potli Pack):
Zizyphus jujube, Dolichos biflorus, Cedrus deodara, Hordeum vulgare, Anethum sowa, Vigana mungo, Memecyclon umbellatum, Acorus calamus, Sesamum indicum, Brassica campestris, Ricinus communis, Sarcostigma Kleinii
How To Use:
Step 1:
Take 5-6 ml of Kairtis oil and massage on the affected area. Massage gently for 15 minutes, as recommended. Repeat if desired.
Step 2:
Heat 10-12 ml of oil in an oil heating vessel on a low flame.
Step 3:
Heat potli in the same oil heating vessel with the oil.
Step 4:
Check the temperature of the potli by gently applying it on dorsal part of the palm to make sure that the heat of the potli is bearable before application.
Step 5:
Do the potli therapy by tapping the potli gently over the affected area.
Step 6:
Massage the joints with the potli in a circular motion. Massage in the clockwise direction for 5 times and then keep it still for few seconds and then massage again in anticlockwise direction for 5 times.
Step 7:
Repeat the therapy for minimum 15-20 minutes by intermittently heating the potli to keep it warm.
Step 8:
You can add 3-5 ml oil to the heating vessel if it seems to be dry.
Step 9:
Apply Kairtis oil with potli twice a day, for effective results.
| | |
| --- | --- |
| Dimensions | 160 × 110 × 110 cm |
| Products | |
| HSN code | 30049011 |
Vendor Information
Store Name:

kairali

Vendor:

kairali
No ratings found yet!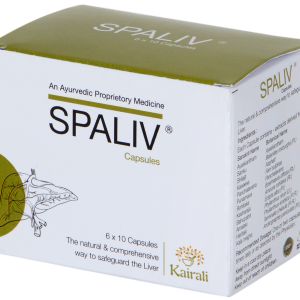 Kairali Spaliv Capsules – Best Ayurvedic Medicine for Liver Disease and Liver Protection (60 Capsules)