Multigrain Italian Strips (Pack of 2 x 180 gm)
Multigrain Italian Strips (Pack of 2 x 180 gm)
You Save: ₹10.00(4%)
 AS PER THE MANUFACTURER
PACK CONTAINS : Multigrain Italian Strips (Pack of 2 x 180g), you can enjoy at morning breakfast time with milk.
NO USE OF MAIDA: Our Cookies are very healthy. Accordingly, We do not use any maida or all-purpose flour in any of our cookies. No maida breakfast snack for you filled with goodness of gluten-free multigrain flour and seeds.
MADE UP OF : Ragi flour, Jowar flour, Bajra flour, Chickpea Flour, Whole Wheat flour, Cornflour, Rice bran oil, Jaggery powder, Soy Protein Isolate, Wheat Bran, Chia seed, Sesame Seed, Sunflower Seed, Flax Seed & Lots of love.
IMMUNITY BOOSTER: Millets and Seeds are excellent source of Omega3, Antioxidants, Vitamins & Proteins and Boost Immunity.
NO ADDED FLAVORS & PRESERVATIVES: All our healthy snacks do not contain any added flavors or preservatives. In particular, we try to use the natural ingredients as much as possible so that it works great for people of all ages.
We have such an am amazing process that the cookies have a shelf life of 6 months.
Ingredients / Composition
Ragi Flour
Jowar
Flour
Bajra Flour
Chickpea Flour
Whole Wheat Flour
Cornflour
Rice
Bran Oil
Jaggery Powder
Soy
Protein Isolate
Wheat Bran
Chia
Seed
Sesame Seed
Sunflower Seed
Flax seed
Baking Powder
Vanilla
Reviews (0)
Description
Shipping
Vendor Info
More Products
Nutrition Info:-
Per 100g- Calories
443.00
Carbohydrate
62.20 g
Protein
15.20 g
Total fat
16.10 g
Saturated fat
3.50 g
Trans fat
0.00 g
Dietary fibre
10.07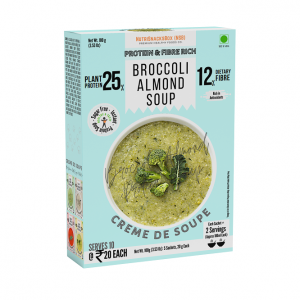 'NutriSnacksBox Protein Broccoli Almond Soup Packet 100g | Healthy Soup Rich in Protein & Fibers