Earthen Story Certified Organic Multigrain Flour – 5kg
Earthen Story Certified Organic Multigrain Flour – 5kg
₹725.00
AS PER THE MANUFACTURER
CERTIFIED ORGANIC: The grains used are organic i.e. grown without artificial chemicals
STONE GROUND using traditional stone grinding machines instead of modern steel rollers to retain maximum amount of natural oils and minerals.
100% WHOLE GRAIN FLOUR: We use 100% whole grain including bran and germ and it results in richness of vital minerals, vitamins and fiber. We do NOT use any additives, bleach or preservatives. No Undue processing.
HEALTHY MIX: Unlike others, we use 6 grains to make multigrain flour. Whole Wheat (60%), Ragi (10%), Jowar (10%), Black Chana (10%), Bajra (5%) and Barley (5%).
HEALTHY CHOICE: Rich in minerals and oils, high fiber content. Helps in lowering diabetes, blood sugar and weight loss.
Reviews (0)
Description
Shipping
Additional information
Vendor Info
More Products
Product Description :
Earthen Story Certified Organic Multigrain Flour, 5kg | Stone Ground, 100% Whole Grain
Ingredients / Composition :
Whole Wheat (60%), Ragi (10%), Jowar (10%), Black Chana (10%), Bajra (5%) and Barley (5%)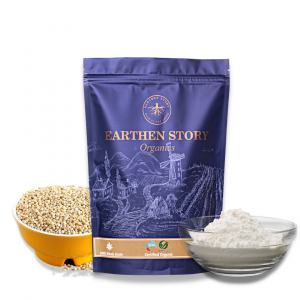 Earthen Story Certified Organic Flour or Atta Combo Pack of 5 Grains – Jowar, Bajra, Ragi, Barley/Jau, Kala Chana – 5kg (1kg Each)