Kairali Kairkare – Ayurvedic Body Massage Oil for Detoxifying & De-Stressing (200 ml)
Kairali Kairkare – Ayurvedic Body Massage Oil for Detoxifying & De-Stressing (200 ml)
₹975.00
3 in stock
AS PER THE MANUFACTURER
Kairali's Kairkare Ayurvedic body massage oil is manufactured with more than 40 essential Ayurvedic herbs. It helps to invigorate the body by eliminating toxins & detoxifying the body. This massage oil absorbs deep into the body that nourishes the skin and muscle tissues. It improves the blood circulation in the body, relieves stress and relaxes the body. This herbal massage oil also improves the texture of the skin and keeps you stay fit and healthy.
Kairkare general body massage oil is developed from 100% natural ingredients.
The Key Ingredients in this product are:
Country mallow – Strengthens and relaxes the body, relieves you from body pain, muscle cramps and skin disorders.
Barley – Improves elasticity of the skin, strengthens the bones and muscles.
Horse gram – Enriched with anti-fungal, anti-bacterial, and anti-oxidant properties. Helps in detoxifying and rejuvenating the body.
Jujuba – Moisturizes and nourishes the skin. Treats acne, psoriasis, sunburn.
Bael – Increases the body resistance.
Reviews (0)
Description
Shipping
Additional information
Vendor Info
More Products
Ingredients / Composition:
Kharayashti (Sida cordifolia); Yavam (Hordeum vulgare); Kulatha (Dolichos biflorus); Lamthakkuru (Ziziphus jujuba); Vilwa (Aegle marmelos); Madhuparni (Gmelina arborea); Krishnavrinda (Stereospermum colais); Dunduka (Oroxylum indicum); Thakari (Premna corymbosa); Prsniparni (Desmodium gangeticum); Salaparni (Pseudarthria viscida); Brihati (Solanum xanthocarpum); Brihathiyuga (Solanum indicum); Gokshura (Tribulus terrestris); Kokilaksha (Hygrophila auriculata); Meda (Polygonatum cirrifolium); Mahameda (Polygonatum verticillatum); Devadaru (Cedrus deodara); Manjishta (Rubia cordifolia); Kakoli (Fritillaria roylei); Kshirakakoli (Lilium polyphyllum); Srikhandam (Santalum album); Anantha (Hemidesmus indicus); Bheejasara (Bridelia montana); Chakramarda (Cassia tora); Saindhava lavana (Rock salt); Karpasasthi (Gossypium herbaceum); Agaru (Aquilaria agallocha); Punarnava (Boerhaavia diffusa); Aswagandha (Withania somnifera); Sathavari (Asparagus racemosus); Madhuka (Glycyrrhiza glabra); Abhaya (Terminalia chebula); Amalaki (Emblica officinalis); Vibhitaki (Terminalia bellirica); Rasna (Alpinia galanga); Satakuppa (Anethum sowa); Mudga (Vigna radiata); Mudagaparni (Vigna trilobata); Elattari (Elettaria cardamomum); Twak (Cinnamomum zeylanicum); Tila (Sesamum indicum); Gokshira (Cow's Milk)
How To Use:
Warm 15ml of oil & gently massage all over body. Retain for 30 minutes and wash off with lukewarm water. Best results when applied daily.
| | |
| --- | --- |
| Dimensions | 70 × 50 × 50 cm |
| Products | |
| HSN code | 30049011 |
Vendor Information
Store Name:

kairali

Vendor:

kairali
No ratings found yet!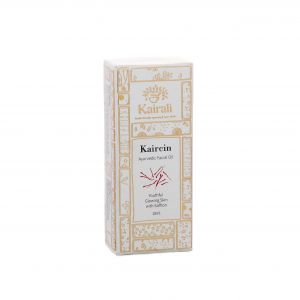 Kairali Kaircin – Ayurvedic Facial Oil for Youthful Glowing Skin with Saffron (10 ml)