Diet-Fils – Millet Protein Crispers with Pea Protein Achari Combo – (Pack of 3)
Diet-Fils – Millet Protein Crispers with Pea Protein Achari Combo – (Pack of 3)
₹447.00
Out of stock
AS PER THE MANUFACTURER
HIGH IN PROTEIN : Millet Protein Crispers comprises 13 g of Vegan Protein per pack.As protein being a deficiency among all age groups be fulfilled while enjoying snacking.
INGREDIENTS WITH NO GRAIN : This snack is purely made with the blends of Finger Millet(Ragi),Sorghum Millet(Jowar),Foxtail Millet(Kangni),Browntop Millet(Hari Kangni) along with pea protein isolate without taking any grain in the reciepe.
GLUTEN AND MSG Free : Enjoy the Guilt and MSG Free snacking with Zero Transfat.
RICH IN AMINO ACIDS, MAGNESIUM & VITAMIN B3 : As all of these millets are rich in amino acids and tryptophan they helps in improving mood,Rregulating the heart rythm with reducing the oxidative stress.
LEAN MUSCLE MASS : Pea Protein Isolate,a vegan protein being ingredient of Millet Protein Crispers yields protein making people feel fuller along with less cravings for carbs or fat which helps in lean muscle mass while enjoying snacking.
Perfect snacking option for all age groups.Being light & delicious.Perfect replacer during tea time snacks and people binging over junk during evenings.Can enjoy muching with Cocktails/Mocktails also.
Product Weight / Size / Volume: 600g
Ingredients / Composition: Finger Millet , Sorghum Millet, Browntop Millet , Foxtail Millet , Pea Protein, Seasonings
Reviews (0)
Description
Shipping
Additional information
Vendor Info
More Products
Product Short Description
Millet Protein Crispers with Pea Protein Achari Combo | Made with Finger Millet , Sorghum Millet , Browntop Millet, Foxtail Millet , Pea Protein |No Grain | Gluten Free | 13 G Protein per pack |Roasted not fried | Healthy Snacks | No MSG | Zero Transfat | 130 G x 3
Pack Size: Jar
Shelf Life: 5 months
| | |
| --- | --- |
| Weight | 0.6 kg |
| Dimensions | 26 × 8 × 20 cm |
| HSN code | 21069099 |
| Ingredients | |
| Nutrition | |
| Products | |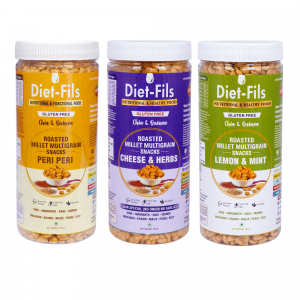 New!
Diet-Fils – Roasted Millet Multigrain Snacks Combo Mix | Cheese & Herbs | Lemon & Mint | Peri Peri