Oats Flaxseed Crackers
You Save: ₹15.00(6%)
AS PER THE MANUFACTURER
Oats and Flaxseed Cracker Ingredients of Nutrisnacksbox
Nutrisnacksbox is a leading oat crackers brand. Both oats and Flaxseeds have benefits. However, It is very important to understand Flaxseed and Oats thoroughly before you make them a part of your daily diet. Above all, This will help you to know the right dosage that works for you and your family. Moreover, the taste of them raw is not so great. Indeed, It becomes inevitable to make them acceptable taste-wise as well. In particular, one can do that through snacks or meals that are healthy and nutritious at the same time.
Why choose our Oats crackers over savory oat crackers recipe on the Internet?
We bet that our oat and flaxseed crackers recipe is as good as any healthy and savory recipe on the Internet.
Our flaxseed crackers are on the go.
Secondly, The Chefs in the kitchen create flaxseed crackers with utmost love and care.
Moreover, Nutrisnacksbox Food technologists make sure that the nutrition value is intact
On top of it, The crackers are handpicked and made in a very hygienic condition.
Furthermore, We use the best ingredients so that it gives the feel of English or Scottish oats crackers
Therefore, taking the above conditions in mind, we would suggest that you give our snacks a try rather than search for a healthy cracker recipe online. All you need to do is sit back relax and open a pack of our Oats crackers with Flaxseed once and we are sure that you would ask for more. Unlike, a flaxseed cracker dehydrator recipe, which you need to store and prepare later. Our strongest point is that our cracker is ready to eat.
What are the other salient features of our Flaxseed Crackers with Oats?
They come with the following other benefits:
Low Sugar
Low Fat
Fibre Rich, Protein-Rich
Zero Refined Flour (MAIDA)
Oats and flaxseed crackers' calories are low
Ready to eat so no need to microwave the oats and flaxseed crackers as well.
Ingredients / Composition
Oats,
Oats Flour
Rice Flour
Jaggery
Whole Wheat Flour
Protein Isolate
Seasoning Mix
Flax Seed and healthy oil
Reviews (0)
Description
Shipping
Additional information
Vendor Info
More Products
Nutritional Info:-
Amount per 100 g approx
Serving Size(g)
40.00
Calories per serving(Kcal)
168.85
Calories from fat per serving (kcal)
44.29
Carbohydrates(g)
61.95 g
Added Sugar(g)
10.57 g
Protein(g)
15.50 g
Fat(g)
5.37 g
Saturates Fat(g)
2.50 g
Trans fat(g)
0.0 g
cholesterol(mg)
0.0
Fiber(g)
10.00 g
Energy(Kcal)
422.13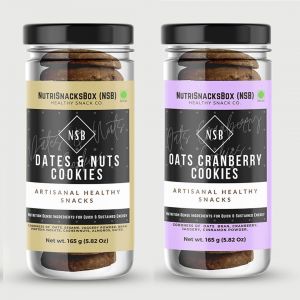 New!
NutriSnacksBox Cookies, 300g (Pack of 2 x 150g) | Cookies Combo Pack | Dates & Nuts Cookies | Oats & Cranberry Cookies