1-Day Detox in a Box – Detox Box for Weight Loss
You Save: ₹201.00(17%)
AS PER THE MANUFACTURER
India's no. 1 WEIGHT LOSS secret!
Regular detoxification or inner cleansing is necessary for one's health, as it flushes out toxins, enhances basic functions and enables weight loss. The 1-day DETOX BOX contains specially curated foods that help you achieve a deep level detoxification.
It is easy to follow, convenient to use and comes with a 1-month detox diet plan to help you:
Lose Weight
Increase Energy Levels
Boost Your Metabolism
Get Glowing Skin
BENEFITS of DETOX BOX

Up to 2 kgs of WEIGHT LOSS in a week
Clear and Glowing Skin
Improved Digestion
Improved Energy & Productivity
Reduction in Bloat
Improved Energy
Improved Hair Quality
Better Immunity
WHAT'S INSIDE of DETOX BOX?
Coconut Water– Hydrates the body & keeps you energized.
Detox -Mint Tea – Helps to keep your digestion good and refreshes your breath.
Cleansing Beetroot Lemonade– Helps to boost your immunity,
Clear skin, protects your heart.
Protein-rich Upma– Gluten-free, High fiber, and easy to digest.
Anar-Detox Drink– A rejuvenating drink, that helps to improve your digestion and reduces acidity and bloat
Digestive Adrak-sorba – High-fiber soup loaded with antioxidants.
Glow Up Amla Turmeric shot– A drink enriched with Vitamin C, great for hydration and detoxification.
Healthy Green Soup  – Loaded with vegetables and minerals for a deep-level detoxification
Soothing Ginger Lemon Grass Tea– Both lemongrass & ginger are anti-inflammatory herbs. Ginger helps reduce bloat & the tea is full of antioxidants
Digestive Herbal Tea– Good for digestion.
KEY INGREDIENTS in DETOX BOX

Weight Loss:  Soya, Chana dal (Protein rich upma); High fibre (Digestive Adrak shorba); Dal (Healthy green soup)
Skin Glow: Vitamin C (Beetroot lemonade); Amla (Glow up turmeric shot)
Digestion: Mint (Detox mint tea); Anar (Anar detox drink); Adrak (Digestive Adrak shorba); Ginger (Soothing Ginger Lemongrass tea)
High Energy: Electrolytes (Coconut water)
Immunity: Beetroot, vitamin C (Cleansing Beetroot lemonade); Turmeric, Amla (Glow up turmeric shot); Lemon grass, Ginger (Soothing Ginger Lemongrass tea)
HOW TO USE DETOX BOX?
You can choose to detox on any one day of the week.
On the day of your detox, consume only the contents of this detox box.
Refer to the instructions and detox diet plan schedule provided along with the detox box.
Detoxing once a week will rejuvenate your mind and body, leaving you refreshed and re-energised.
Reviews (0)
Shipping
Additional information
Vendor Info
More Products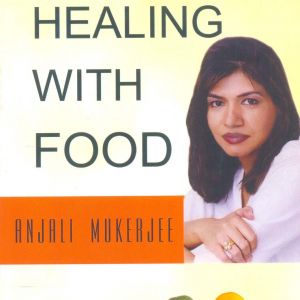 Healing with Food Book by Anjali Mukerjee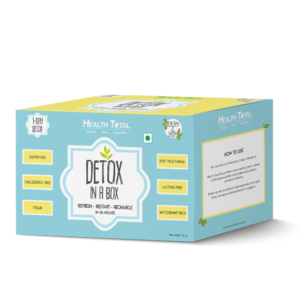 Bestseller
1-Day Detox in a Box – Detox Box for Weight Loss
17%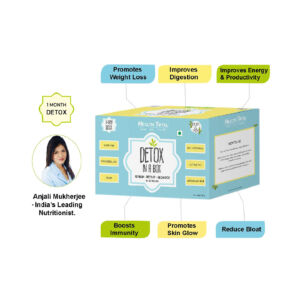 Bestseller
1-Month Detox Kit (4 Pack Kit) – Detox Kit for Weight Loss