You cannot add "Rose Tea" to the cart because the product is out of stock.
Reviews (0)
Description
Shipping
Additional information
Vendor Info
More Products
AS PER THE MANUFACTURER
Improves Heart Health:Chia seed oil is rich in an omega-3 fatty acid known as alpha-linolenic acid (ALA), which can support heart health.
Support Brain Health:A diet rich in omega-3s, which are found in high amounts in chia seed oil, is associated with improved brain health and a lower risk of neurological disorders like stroke, Alzheimer's disease, and depression.
Skin Glow:Chia seed oil is high in omega-3 and omega-6, both of which are associated with a healthier skin membrane, more hydrated skin, and protection against UV damage.Using chia seed oil on your skin may reduce dryness by restoring its moisture barrier and preventing water from leaving it.
Supports Hair:Chia seed oil is rich in healthy fats that can keep hair looking hydrated and healthy to reveal its natural shine.
Product Weight / Size / Volume: 100 ml
Ingredients / Composition: Chia Seed
Nutritional Info:
Polyunsaturated Fat 21.1 g
Omega-3 52.6 g
Omega-6 14.7 g
Mono Unsatured Fat 67.3 g
How to use:Try adding it to your salad for dressing or in cooking as a replacement of unhealthy oil.You can directly apply onto your skin or hair for beauty purposes.
| | |
| --- | --- |
| Weight | 0.5 kg |
| Products | |
| HSN code | 1515 |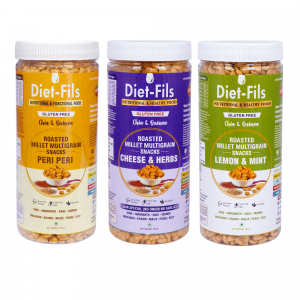 New!
Diet-Fils – Roasted Millet Multigrain Snacks Combo Mix | Cheese & Herbs | Lemon & Mint | Peri Peri